You've heard of LinkedIn company pages and showcase pages.
Enter, the LinkedIn product page.
An innovative way to showcase your product and give it a small landing page of its own on the platform.
This is a perfect way for SaaS and other select companies to give their products a proper home on LinkedIn.
In this guide, we take a look at how you can create LinkedIn product pages to maximize your growth.
Why Get a LinkedIn Product Page?
If you have a company and showcase pages for the different brands that you have, you might find it weird that you would have to create a LinkedIn product page.
But here's the thing.
There's a reason why LinkedIn offers new features like this.
A LinkedIn product page allows you to showcase a product to your prospects in its entirety.
Think of it as a separate page where you can house reviews, media and even showcase featured customers. It acts like a landing page for your product on the platform. You can add a CTA from the product page that takes the prospect directly to your product's page.
Product pages are essential if you want to isolate your product from your company or brand and provide your potential customers with a focused experience on the product.
These pages almost make your product easily searchable as LinkedIn now includes products as part of its filter.
To add to this, product pages also allow for your products to appear next to your competitors. Look at Hubspot CRM for instance, a quick visit to their product page shows their competitors on the righthand side.
Think about it, your company page is just supposed to highlight your company. Yes, you may be able to post updates about your products, but it's not the same as having a page dedicated to your product.
Who Can Get a LinkedIn Product Page?
Since LinkedIn are "fairly" new, they are not available to other industries.
According to the platform, LinkedIn product pages are only available to:
…Pages in the following types of industries: business-to-business (B2B) software, computer hardware, financial services, insurance, education, healthcare, and pharmaceuticals.

LinkedIn Product Pages

How Do You Create a LinkedIn Product Page
If your organization falls under any of the industries mentioned above and you currently have a company page, all you have to do is the following.
Hop onto your LinkedIn company page as a Super admin.
Click on the tab marked "Products", you" find it towards the top.
There should be a button where you can add a product.
Now, here's the tricky part, your organization, and your product could have different names, so you want to select whether: "Yes, my product and organization have the same name" or "No, my product has a different name". Remember, the default is for you to create a flagship product, so you want to highlight your main product. If you do need to change the name of your product in the future, there is no easy way of doing it and you will have to reach out to support.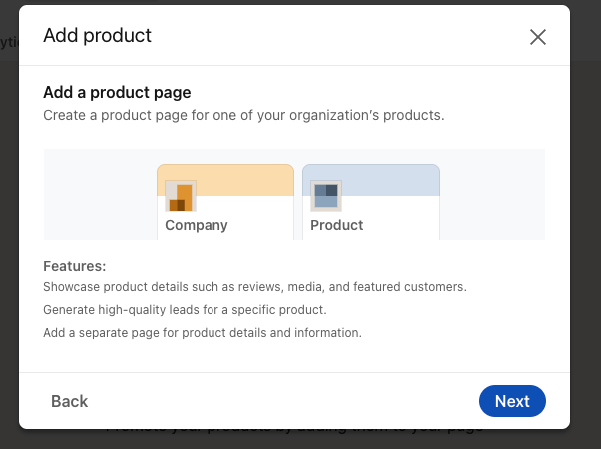 Now here comes the fun part, customizing your product page.
First things first, you want to add a logo to your product. So click on the first default thumbnail next to the name of your product and upload a logo of your product.
You can make other top-level edits here such as picking the category of your product, and tweaking the name.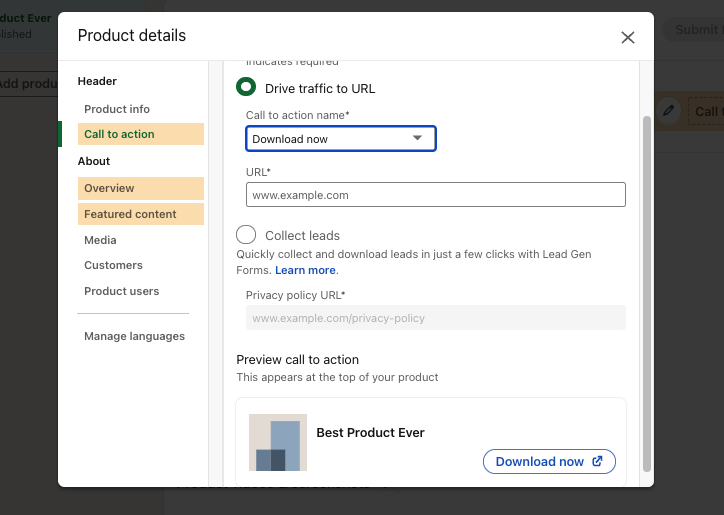 Next you want to add a CTA.
You can use a standard CTA, LinkedIn provides you with a bunch of regularly used CTA names such as "Download now", Request demo", etc. that you can bind to a URL on your website.
Alternatively, you may also use the "Collect leads" functionality using LinkedIn Lead Gen Forms.
Read more: How to Create LinkedIn Lead Gen Forms
After you're done with these steps, you can move forward and add a product description as well as some featured content – which is basically adding posts that feature your product.
You also have the option of adding a mixture of photos and videos – a maximum of 5 – to give your product some flair and make it stand out from the competition.
Make sure you go through all the other tabs to maximize completion.
Once you're done, all you have to do is to submit it to LinkedIn for review and you're pretty much good to go. Give it a couple weeks and LinkedIn will publish your very own product page!
Flagship Product Pages vs Product Pages
It's useful to note that there are two kinds of LinkedIn product pages: regular product pages and flagship pages.
Now, a flagship product page is pretty self-explanatory, they are the product page for your top product.
Both pages are highly similar except for the fact that connections who follow the company are visible on the top end of the flagship product page.
Also featured customers are visible on the page top card of flagship product pages.
Now if you need to convert one to the other, you won't be able to do so on your own. You would still need to contact LinkedIn support to help you out.
Our Favorite Feature: Featured Customers
We talk a lot about getting proper ambassadors for your brand and having thought leaders promote your organization.
Now LinkedIn product pages offer the option to add your high-profile customers right on the page in their very own section.
We love this feature a lot because it allows you to add social proof to your products.
You see, one of the most powerful ways to add authority to your product is to add social proof. When potential customers see a leader that they follow or someone prominent using a product they are considering, it creates trust by association.
Since they trust the person indirectly promoting the product, that trust also extends to the product.
This is why you'll see us always advise that one of the best ways of giving your personal LinkedIn profile authority is to add the logos of companies you've worked with in the past.
Takeaways
A LinkedIn product page is one of the best things you can do for your product because it provides your product with it's very own page that is focused on promoting it.
Add the ability to add featured customers and a linked CTA right up top and you have yourself a powerhouse page that can make a difference in your lead generation.
The only issue we have with LinkedIn product pages is their closed nature.
You can only use them if you belong to a certain tyu